Paris Five Star Hotels
Use this search feature to quickly find the information you're looking for:
Paris five star hotels are one of the many magnets attracting millions of visitors to the famous city every year. No place on earth does first class better than Paris, also known as the city of love, the city of lights, and the city of luxury. If you are looking for great hotel accommodations on your next trip to France, be sure to book a room in France's capital city.
There are plenty of topnotch hotels to choose from in Paris. It's easy to understand why these hotels have received five-star ratings from tourists and worldwide ranking committees alike. From silk bed sheets, crystal chandeliers, extravagant room service, luxury suites, and panoramic views of the city lights, you can expect to be treated like royalty and feel like a king.
To experience some of Paris's finest lodgings, the following are some of the top-ranked, recommended Paris five star hotels.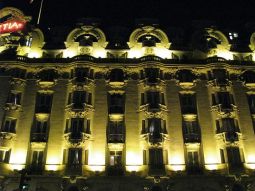 Photo by: davitof
If you are in Paris for business, check out the Sofitel Paris Arc de Triomphe, which consistently receives five-star rankings from the Five Star Alliance. Featuring social functions of an elite status and rooms with a richly stocked bar, businesspeople from all over the world flock to this upper-scale hotel. Additional incentives include exquisite cuisine and breathtaking ballrooms.
If scenic views of the city of Paris from your balcony suite appeal to you, ask your travel agent to make reservations at the Hotel de Crillon. Imagine sleeping in a room adorned with golden mirrors and golden statues, enjoying 5-course breakfasts-in-bed on satin bed sheets, 24-hour room service, and luxurious hotel room amenities. Outside your hotel suite the rapture continues as you enjoy indoor swimming pools, a fitness center, steam and sauna rooms, and more.
Have you ever dreamed of living the lifestyle of the rich and famous or meeting actual royalty? If you'd like to cross paths with some of Paris's royal elite, book a room at the exquisite Le Royal Monceau. One of the most famous Paris five star hotels, Le Royal Manceau is host to many elite social events and modern art shows. For these reasons it is a beacon of contemporary Paris culture. Other highly recommended five-star accommodations include Paris's Hotel Plaza Athenee and Le Burgundy Paris.
If all this grandeur and opulence is beyond your budget, however, there are still many first-class Paris hotels which offer comfort at affordable prices. Each establishment features delicious dining, magnificent room service, free parking, personal safety deposit boxes, air-conditioned and heated rooms, fitness facilities, swimming pools, and world-class shopping boutiques.
Whether you book a room in Paris five star hotels or any other Paris lodging, you will pleasantly find yourself only a heartbeat away from the city's iconic landmarks, famous museums and historical sites, and world-class fashion districts.
Other Hotel Destinations
Didn't find what you were looking for? Use this search feature to find it: