Where is Notre Dame?
Use this search feature to quickly find the information you're looking for:
Where is Notre Dame? Simply pull out your handy Paris pocket map or your traveler's guide to France and you won't be able to miss it. In fact, the Notre Dame Cathedral is one of the must-see sites included on every list of places to see in France. The famous church is located very centrally on l'Ile de la Cite, an island in the middle of the River Seine.
What makes this church so special that it attracts thousands of Christian and non-Christian visitors each year? To begin with, Notre Dame is considered one of the finest examples of Gothic architecture in France and Europe. Its construction began during the reign of Louis VII in 1163 and was not completed until approximately 1345, meaning 200 years of labor went into the massive edifice! It is said that the lives of scores of carpenters, architects, stonemasons, and other workers were fully occupied with the construction of Notre-Dame de Paris.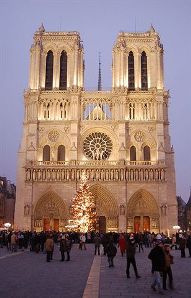 Photo by: gfdl
If you ask anyone of the streets of Paris: Where is Notre Dame? They will immediately point you in the direction of one of Paris' top claims to fame. Some of the most outstanding features of this 13th-century cathedral are its bells, one of which is located in the south tower, and four of which are located in the north tower. The former is the church's oldest bell, recast in 1631 and rung at the end of World War II to celebrate Paris' liberation. Its clapper alone weighs 500 kilograms, with the entire bell weighing 13 tons. The bells of Notre Dame sound every hour on the hour, as well during special occasions and services.
If your visit to Paris coincides with an organ performance or a concert in the impressive cathedral, you will probably have no trouble answering the question, where is Notre Dame, for yourself! The massive organ's 7,800 pipes produce an unforgettable sound, bettered only by the performing choirs and soloists. In fact, the title of Notre Dame's chief organist is considered one of the most coveted and prestigious posts in the country.
More than once over the centuries history has been made at the Notre Dame Cathedral. Among the most memorable events are:
The 1431 crowning of Henry VI of England as King of France
James V of Scotland's 1537 marriage to Madeleine of France
The 1558 marriage of Mary, Queen of Scots, to Dauphin François, later François II of France
The 1804 coronation of Napoleon I and his wife Josephine
Where is Notre Dame? If you are touring Paris on your own, here are some helpful directions on how to find your way there. If you are taking the Metro, the two closest stations are Cite and Saint Michel. Cite station is actually on the Ile de la Cite, minutes away from the cathedral. If you exit the Saint Michel station onto the Quai Saint Michel, you will be standing directly in front of the Notre-Dame de Paris. If you exit to Place Saint Michel, you will find yourself near a charming fountain, Fontaine Saint-Michel, featuring two dragons spraying water and water issuing forth from a rock. From there simply ask anyone for walking directions to Notre Dame.
Didn't find what you were looking for? Use this search feature to find it: