List of French Food
Use this search feature to quickly find the information you're looking for:
Making a list of French food is a great idea if you've decided to try your hand at some traditional French cooking. Of course, the French are famous for fine dining or exquisite cuisine and exceptional wines. In fact, the term "haute cuisine," similar to the fashion term "haute couture," reflects the rich and elegant taste of the French culture. When it comes to ingredients, haute cuisine is comprised of heavy creams and butter, rich spicy sauces, fresh produce, cheese, and wine.
If you are following the eating habits of the French, your day would typically begin with the following list of French food for breakfast:
A baguette or French stick (the famous long, thin, crispy white bread roll)
Croissants with jam and other fruit spreads
Pastry such as brioches
Tea or coffee
Lunch is the main meal of the day and can last as long as two hours. It is often an elaborate, three-course meal. The menu usually looks something like this:
An hors d'oeuvre (entrée or introductory course) such as soup or a mixed salad
The main meal or plat principal, such as fish or meat with vegetables
Sweet desert, fruit, or a serving of cheese (to serve up cheese French-style, arrange at least half a dozen different varieties on a cheese board and serve with salad)
Dinner in France is a simple affair, typically consisting of a single prepared dish accompanied with a soup or salad. Of course, any list of French food should include wine, which gets served at all the main mealtimes.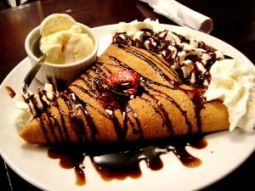 Photo by: TekToNik
If you have a sweet tooth and you are visiting France, be sure to check out the local boulangeries or bakeries, where confectionery items are their specialty. Some of the most popular desserts include eclairs and profiteroles, made of puff pastry filled with chocolate-flavored or coffee custard. Chocolate mousse or "mousse au chocolat" is another renowned French dessert recipe made of two primary ingredients - egg whites and chocolate. And here is a piece of French food trivia for you: "Mousse" in French means "foam," referring to the texture that gives this divine dish its name and taste.
Here are some more classic dishes to round out your list of French food:
Coq au Vin: A French braise of chicken cooked with mushrooms, garlic, and wine
Bredela: Small cakes or biscuits popular at Christmastime
Teurgoule: Rice pudding made of rice cooked in milk, sweetened with sugar, spiced with cinnamon and nutmeg, and baked in earthenware for a few hours
If you are like most people, you are no doubt familiar with the classic dish known as French Toast. However like most people, you might also erroneously assume that French Toast originated in France by the French people! The fact of the matter is that while recipes for French Toast date back to the 16th century, the origins of this European recipe are unknown. And while the recipe doesn't belong on a proper list of French food, here is another interesting tidbit: French Toast used to be known in England as "Poor Knight's Pudding," whereas in France it was called "pain perdu" or "lost bread," reflecting the usage of stale bread which would otherwise have been lost or thrown out.
Special French recipes
Didn't find what you were looking for? Use this search feature to find it: