Romantic French Songs
Use this search feature to quickly find the information you're looking for:
Here's a great place to listen to French romantic songs
Romantic French songs are filled with the passion and refinement we normally associate with the French language. If you are looking for a way to win over a woman's heart, a little bit of French-style music may go a long way!
France has long been known for its sophisticated taste in the fine arts, including film, theater, and song. In fact, music is an integral part of French culture and has been since the days of the French intellectual revolution. In the history of France, the 1800s were heralded as the classical romantic era due to the many romantic films and songs produced during that period. Throughout the 20th century this tradition has continued with the composition of many popular modern romantic French songs.
However, France's most popular romantic singer by far was cultural icon Edith Piaf, whose specialty were ballads and whose 1945 signature song, "La vie en rose," won a Grammy Hall of Fame Award in 1998. Before World War II she had been coined France's top entertainer, and after the war her music spread internationally as she toured Europe, the United States, and South America. Piaf appeared eight times on the Ed Sullivan Show and performed to sold-out crowds twice at Carnegie Hall (1956-57). If you want to listen to some of Piaf's repertoire of romantic French songs, download her classic hits: "Non, je ne regrette rien"; "Hymne a l'amour"; "Milord"; "l'Accordéoniste," and more. Piaf's last recorded song was "L'homme de Berlin" (1963).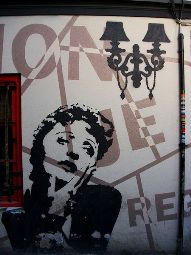 Photo by: Joanbanjo
Edith Piaf went on to launch the singing careers of international star Charles Aznavour, who was dubbed the French Frank Sinatra and who was immortalized by his hit song "She," and her protégée, actor/singer Yves Montand, whose films and music remain popular in France today. Moreover, Piaf songs continue to be used in movies and media and her life story has been the topic of many plays and films.
As you know, French is considered the most romantic language on earth. But did you know that romantic French songs are a fun and effective tool for learning how to speak French? The experts say that watching French movies and listening to French songs are great ways to learn, practice new vocabulary, and stay motivated. However if romantic ballads are over your head or not your cup of tea, try practicing easy French songs such as "Jolie petite Sheila" or "Les Choristes--Vois Sur Ton Chemin," or listen to your favorite group or singer in French.
Didn't find what you were looking for? Use this search feature to find it: