Vintage French Perfume Labels
Use this search feature to quickly find the information you're looking for:
Do the vintage French perfume labels Yves Saint Laurent, Chanel, Christian Dior, Molinard, Galimard, Guerlin, and De Givenchy ring a bell? If you are a perfume lover, you no doubt know what all of these fragrances have in common: Each of these labels is considered one of the world's must exquisite, luxury designer perfumes in the world today.
If you're about to jet off to France on your dream vacation, there is one town located only 23 miles from Nice and 12 miles from Cannes which you must put on your travel itinerary. While it is well known that France has been the leading global manufacturer of perfumes for centuries, what most people don't know is that it is actually a small town in France called Grasses that is the perfume capital of the world!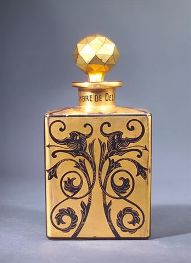 Photo by: Dosviolines
In fact, Grasses has been the origin of vintage French perfume labels since the Middle-Ages. It was during the 18th century that King Louis XV encouraged the liberal use of fragrance in the royal court, a passion which quickly spread to other nobles and social elites and finally to the French people at large. Since that time, perfume production has remained the town's main industrial activity. The entire process, from transforming the raw materials into perfume and even to the packaging takes place in Grasse. Moreover, this French town remains the primary source of the perfume oil concentrate used to make women's perfumes and men's colognes around the world.
Another reason to visit Grasse is the abundance of flowers and aromatic herbs which decorate the landscape and the hills around it. Nature has never displayed such a diverse splash of color, and the moderate climate and soil make Grasse especially suited to grow the aromatic plants from which oils are extracted to make perfume.
When it comes to vintage French perfume labels, Givenchy is one of the oldest names around. The label is named after Hubert de Givenchy, who was born in Beauvais, France, and who by the age of 25 had already founded his own company, House of Givenchy. He went on to rule this empire for the next four decades, introducing both Givenchy Gentleman Cologne for men and Le De Givenchy perfume for women, which was also Bettie Davis's signature fragrance.
If you are a woman, you have no doubt dreamed of owning at least one bottle of expensive Chanel perfume! Chanel No. 5 is considered the world's most popular perfume of all times, used by many Hollywood celebrities, including Marilyn Monroe, and which boasts an estimated rate of one bottle sold every 30 seconds! However its creator, Coco Chanel, also produced Chanel Gardenia, Coco Mademoiselle, Allure for Women, Coco by Chanel, Chanel No. 19, Une Fleur De Chanel, and Cristalle Perfume, in addition to a her haute couture line of women's clothing.
If you want to learn about more vintage French perfume labels, a trip to France or a search online can give you all the information you need. You might also want to look up the name Pochet, the most famous and experienced perfume bottle maker in the business.
Didn't find what you were looking for? Use this search feature to find it: