Napoleon Bonaparte Biography
Use this search feature to quickly find the information you're looking for:
If you're writing a Napoleon Bonaparte biography, you will no doubt be struck by the contradictory nature of his accomplishments and personality. On one hand, for 24 years Napoleon Bonaparte was one of the most prominent generals of the French Revolution and went on to become the Emperor of France. He not only conquered mountains, but he led the men of the Great Army to win spectacular military victories throughout Europe. He is considered one of the strongest personalities in the history of man and his leadership brought about major changes to the French political, religious, economical, and social systems.
However this is where your Napoleon Bonaparte biography will likely take a twist. Bonaparte abused his leadership by trying to take complete control of both the government and people of France. Despite his grand military defeats, he continually desired and sought more power. It is reported that Napoleon controlled the press and used secret agents, arbitrary arrests, and public executions to maintain order and establish his reign as absolute ruler. Yet he did so under the guise of bringing freedom to the people!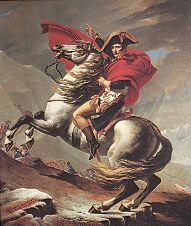 There is no doubt about it: Under the Napoleonic Code, great forms of social liberty were granted to the people. In 1801 Napoleon returned the church to its civil status. In 1800 Napoleon established the Bank of France, which helped stabilize the economy and promoted economic development. He also abolished all tax exemptions and raised revenues to support public education, of which Napoleon was a big supporter. With the desire for absolute control on one hand and the liberation of the people on the other, it's no wonder the figure of Napoleon is so exalted yet controversial.
Of course, no Napoleon Bonaparte biography would be complete without mentioning his first wife, Josephine, who kneeled by his side as he was named Emperor of France. It is said that Empress Josephine lived lavishly, hosting hundreds of balls and spending evenings at the theatre and opera. She spent exorbitant amounts of money on jewelry, clothing, art, furniture, chandeliers and other items. According to her biographer, Carolly Erickson, she possessed "more dresses than any woman could possibly wear…nearly a thousand pairs of gloves, eight hundred pairs of shoes, several thousand pairs of silk stockings, hundreds of embroidered chemises, camisoles, and nightcaps." And regarding the jewels Josephine loved to show off, there were "diamonds, pearls, rubies, sapphires, emeralds, and opals surpassing any other European collection."
In celebration of his military victories, it was Napoleon who commissioned the construction of the Arc de Triomphe, which today is visited by millions of people every year, and from which the Champs-Elysees and 11 other avenues emanate. It took 30 years to complete the 50m (164-foot) structure, which was ultimately finished under Louis-Phillippe. Fittingly, Napoleon's funeral procession passed directly under the arch, making its way to Les Invalides, Napoleon's final resting place.
To keep things interesting, you might want to end your Napoleon Bonaparte biography with some of his best-known quotations:
He who fears being conquered is sure of defeat.
Great ambition is the passion of a great character. Those endowed with it may perform very good or very bad acts. All depends on the principles which direct them.
A picture is worth a thousand words.
Imagination rules the world.
Impossible is a word to be found only in the dictionary of fools.
Didn't find what you were looking for? Use this search feature to find it: