French Love Phrases
Use this search feature to quickly find the information you're looking for:
French love phrases are sure-fire way to add some spice and romance to your date, relationship, or marriage. After all, France is the language of love "par excellence" and is considered the most romantic language in the world. More couples choose Paris, France for their honeymoon than any other global destination, and many proposals have been offered by the Eiffel Tower in the City of Lights.
Light up your date's night by cracking open some bubbly and throwing in a few romantic words in French. For some reason, foreign accents are considered especially sexy by both men and women. The right words at the right time and in the right place can go a long way in igniting, rekindling, or cementing your relationship.
If you're convinced you've just met the most beautiful girl in the world, or if you want to score some points by paying your wife or girlfriend a compliment, a simple bonjour (hello) or comment allez-vous (how are you) won't do! Here are a few French love phrases which will hopefully do the trick: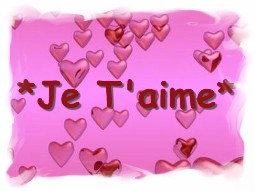 Vous êtes très jolie (You are very beautiful/pretty)
Je t'aime beaucoup (I like you a lot)
Je t'adore (I adore you)
If you've fallen head over heels in love or if you feel ready for a deeper expression of emotion, the following expressions and terms of endearment are the way to go:
Je t'aime a la folie (I'm madly in love with you)
Mon amour (my love)
Mon grand amour (my great love)
Mon seul amour (my only love)
Ma chère (my dear)
Of course, French love phrases are not limited to men! Female French speakers can return the sentiment by saying:
Mon cher (my dear)
Amour de ma vie (love of my life)
Je t'aimerai toujours (I'll always love you)
Je serai toujours avec toi (I'll always be with you)
Beware, however, of inappropriately using French expressions you hear in the movies or in music with your girlfriend or boyfriend. More than a handful of dates have ended with a slap across the face after one party repeats the famous "Moulin Rouge" line and song title: "Voulez-vous coucher avec moi" (Do you want to sleep with me?)!
Finally, if you're sure you have found your soul mate, raise your glass for a toast and seal the deal with these heartfelt French love phrases:
Je t'aime de tout mon coeur (I love you with all my heart)
A toi pour toujours (yours forever)
Looking for some funny French phrases?
Didn't find what you were looking for? Use this search feature to find it: