Cruises to French Polynesia
Use this search feature to quickly find the information you're looking for:
Cruises to French Polynesia are the perfect vacation getaway! But don't confuse French Polynesia with the country of France, as many people erroneously do. French Polynesia is actually a group of islands dispersed in the South Pacific Ocean. Tahiti is the most well-known island, followed by the romantic destination of Bora Bora. However in all, French Polynesia is comprised of 118 islands, divided into five groups or archipelagos: Society, Marquesas, Tuamotu, Austral and Gambier. French Polynesia is most famous for its tropical islands, turquoise lagoons, and endless sandy beaches.
Since the islands offer a romantic backdrop, complete with glorious sunrises and breathtaking sunsets, cruises to French Polynesia are often filled with newly-weds and honeymooners. Some couples, on the other hand, delay their "I do's" until they reach Tahiti, where they celebrate a traditional Tahitian wedding. However French Polynesia has something to offer people of all ages. Among the islands there is a deep Polynesian cultural identity. Tattoos are a huge part of the culture, as are Polynesian handicrafts and the unique black pearls grown in the Tuamotu islands. Tourists will also enjoy the warm, welcoming hospitality of the Polynesian people.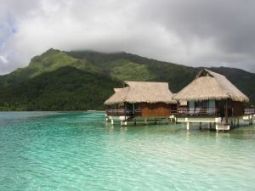 Photo by: mcfly1980
Numerous cruise companies offer luxury cruises to French Polynesia and the South Pacific region. Passengers aboard the vessels stay in spacious staterooms with access to a gym, spa, a movie theater, free champagne, free room service, and other first-class amenities. And just like you see in the movies, cruise ships feature live entertainment, a piano bar, casino, and of course, gourmet dining in a fancy dining hall.
Once you hit the Polynesian island of your choice, take advantage of the slew of water activities available, such as snorkeling, jet skiing, kite surfing, paragliding, swimming, and fishing. If you love scuba diving, a variety of marine life and beautiful corals await you beneath the waters. And if you are a bit of a daredevil, try your hand at real-life shark feeding while professional shark feeders accompany you.
When it comes to accommodations, you'll have more than your share of options! Accommodations on the South Pacific Islands vary from five-star resorts complete with all the amenities to small hotels, guest houses, and even thatched roof bungalows. To move between islands, simply ask your travel guide or tour operator to point you in the direction of the right transportation. Besides Tahiti and Bora Bora, some of the most popular islands include Leeward's Islands, Rangiroa, Marquesasm and the Moorea Islands.
Cruises to French Polynesia are one of a kind and make a perfect gift for an anniversary or wedding or a well-deserved treat for yourself and your family. Wising you "Bon Voyage" and an unforgettable island vacation!
Didn't find what you were looking for? Use this search feature to find it: