e-Books in French
Use this search feature to quickly find the information you're looking for:
e-Books in French are one of the leading tools for learning how to read and speak French. Whether you are a high school student, a businessperson, a tourist, or simply a language lover, e-books are all the rage when it comes to combining learning and entertainment. They are easy to download in PDF format from the Internet and you can even find some French e-books for free!
Did you know that French is one of the top international languages? Here are some of many reasons millions of people from all over the world are taking French conversational classes, hiring a French tutor, or going online to learn French:
To prepare for a trip in Paris, France, also known as the City of Lights
To communicate with a French-speaking partner, family, or friend
For business dealings or work purposes
To launch a career as an international translator
To learn the language of love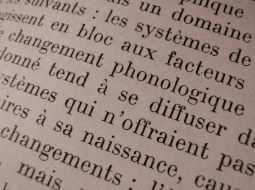 The key to learning any new language is practice, practice, practice. With the variety of e-books in French available nowadays, you can choose books which interest you and keep you motivated. There are French e-books for children and for adults. Some e-books are designed strictly to teach the basics of French grammar and simple vocabulary, while others serve as a handy guide to the most common French phrases, expressions, and words. If you love reading the classics, you'll especially enjoy trying your hand at reading books in French that you are already familiar with. Some of the most popular French authors and masterpieces to look for are:
Jules Verne: "Twenty Thousand Leagues Under the Sea," "Around the World in 80 Days," "Journey to the Center of the Earth"
Alexandre Dumas: "The Three Musketeers," "The Man in the Iron Mask," "The Nutcracker," " The Count of Monte Cristo"
Victor Hugo: "Les Miserables," "Notre Dam de Paris"
Of course e-books in French are only one way to learn how to speak French. You can also listen to French audio recordings, many of which are available online at beginner, intermediate, and advanced levels. The ticket to success is to repeat what you hear as often as possible and to practice in 'real time' by conversing in French with friends or with a study buddy. And if you are already searching the Internet for online resources to learn French, take advantage of the thousands of websites which offer tutorials, tutors, audio, video, learn French software, printable practice exercises, lesson plans to teach French, and more.
Whether your goal is to become fluent or to simply pick up some popular sayings and slang, e-books in French are sure to help on your road to success. Simply go online, find your favorite learn-French website offering e-books, click to download, and within minutes your reading and enjoyment can begin!
Didn't find what you were looking for? Use this search feature to find it: