Popular French Beaches
Use this search feature to quickly find the information you're looking for:
French beaches are where to go if you love sun, surfing, clear blue waters, and sipping on a cool drink under a pretty parasol along a sandy coastal beachfront.
Most people don't know this, but the French mainland is actually surrounded by water on three sides! With the Atlantic on one side, the English Channel on another, and the Mediterranean on a third, there are French beaches to suit swimmers, surfers, and sun-tanners of every age. While some beaches are family oriented and offer multiple activities for kids, other beaches, such as La Mouette, are "bikini optional" and are probably best visited by adults only.
If you travel to Britanny you will be soaking up the rays along France's north Atlantic coast. Traveling to the Bay of Biscay takes you to the sunny south Atlantic coast, while if you reach Corisca you might find yourself surfing in the Mediterranean. The Côte d'Azur (literally translated as "the blue coast") stretches along France's south, spanning the Mediterranean coast from Marseilles to Menton. However the posh eastern section known as the French Riviera is home to the most popular and best-known French beaches.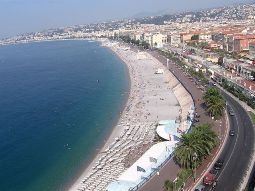 Photo by: narje
Seven cities - Cannes, Cap d'Antibes, Antibes, Juan le Pins, Menton, Nice, and Villeneuve Loubet - are located along the French Riviera and enjoy waterfronts sparkling with glistening waters. Some beaches are sandy, while the artificial beaches of Menton and Nice have pebbles in place of sand. To host the many thousands of annual visitors, each city also features reasonably priced hotels as well as fine French cuisine, with restaurants catering to families, couples, and pallets of all tastes.
Perhaps the best-known town located along the French Riviera is St. Tropez, famous for being the vacation destination of many celebrities and beautiful people. Located between Marseilles and Cannes, it features not only stunning beaches but is considered the fashion hotspot of the entire region. In fact, the shopping in St. Tropez is legendary and is the place to go for a wide range of fashion, gift items, and antiques.
If you are young and want to know where to hang out after dark during your visit to France, head to St. Tropez, a city which comes to life after hours. Join the crowds at the famous Café de Paris, or hit the Hotel Bibes' raving nightclub, Les Caves. You can enter for free, but be prepared to pay a pretty penny for drinks at the bar!
When most people think of France, historic buildings, famous chalets, and the Eiffel Tower usually come to mind. But if you're looking for a way to rest your tired feet after a few days of relentless site-seeing, take out your map and locate the nearest French beaches! If you enjoy other water and sports activities, ask your tour guide for directions to the mountains where you can climb, hang-glide, paraglide, and go canyoning in the local gorges. When it comes to vacation destinations, travel France really has it all!
French beach Photos here and here
Didn't find what you were looking for? Use this search feature to find it: