Facts on Toulouse France
Use this search feature to quickly find the information you're looking for:
Looking for facts on Toulouse France? Then you've come to the right place!
Let's start with the physical facts. If you look on your map of France, you will find Toulouse located in the Midi-Pyrenees region of southwestern France. It lies on the banks of the Garonne, Touch, and Hers-Mort Rivers and is crossed by two canals. While it boasts over 2,000 years of history, modern-day Toulouse is France's fourth largest city whose claim to fame is its booming aerospace industry.
And here are some miscellaneous facts on Toulouse France: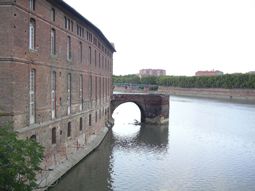 Photo by: Wojsyl
It is popularly known as the "Pink City" due to the rose-colored bricks used in the construction of most of the city's buildings
It has a massive town hall that closely resembles Buckingham Palace
It is a cultural hub for ballet, classical music, and opera, the performances of which are often held in the Theatre du Capitole
Its residents are avid rugby fans, supporting their home team, Stade Toulousaine; Toulouse hosted the 2007 Rugby World Cup
As the headquarters for Airbus, an Airbus guided tour is the landmark tourist activity in the city
Of course, all the facts on Toulouse France won't do you any good unless you know how to get there! Here is some travel information on how to reach Toulouse:
The city is accessible by land, rail, and air
International flights into Toulouse land at Blagnac Airport, a 20-minute drive from the city center
If you hold a Eurail pass, you can take direct trains from Toulouse to most other France destinations
The city's main railway station is Toulouse-Matabiau, which can be found on the the Bordeaux-Sète railway, the Toulouse-Auch railway, the Toulouse-Bayonne railway, and the Brive-Toulouse (via Capendac) railway
However, by far the most interesting fact about Toulouse is that it leads the aerospace industry in all of Europe. It is home to both the SPOT satellite and the CNES's Toulouse Space Center (CNES, or Center National D'Etudes Spatiales, being the space agency of the French government). If space technology sends your mind into orbit, however, and has you seeing stars, simply enjoy a day of fun at Toulouse's most popular attraction: The Cite de l'Espace (the City of Space).
The focus of this famed theme park is the conquest of space. It features a planetarium with a mind-blowing light show, a huge Imax screen, and interactive exhibits for the whole family. If all of these facts on Toulouse France have peaked your enthusiasm and interest, be sure to ask your travel agent or travel guide to put Toulouse on your itinerary and then prepare for the trip of a lifetime!
Didn't find what you were looking for? Use this search feature to find it: