French Art Museums
Use this search feature to quickly find the information you're looking for:
French art museums are some of the most renowned, expansive, and impressive places to visit in the world. Who hasn't heard of Leonardo Da Vinci's Mona Lisa or of Venus of Milo, displayed in the Louvre, France's premiere art museum? Featuring a collection of over 35,000 items over 652,300 square feet, it's no wonder millions of visitors pass through the museum's front doors each year.
And perhaps the names Van Gogh, Monet, Manet, Gauguin, Renoir, and Degas ring a bell. The Musée d'Orsay is home to works by these great artists and more, and features an outstanding collection of impressionist and post-impressionist paintings and marble sculptures. Showcasing French art from 1848-1915, this is the museum to visit if you want to learn about the history of art in France and get a front-row view of the best of the best.
There are certainly no shortages of French art museums in Paris! In fact, several smaller art museums in France house comprehensive collections by some of most highly acclaimed painters and sculptors. If you want to view the artwork of Pablo Picasso, Henri Matisse, Pierre Bonnard, and Suzanne Valadon, take a trip to the Musee d'Art Moderne, where over 8,000 works from these and other renowned artists are displayed.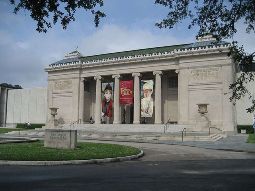 Photo by: Infrogmation
If you're preparing for a trip to France and want to plan your itinerary ahead of time, here are some additional top French art museums you won't want to miss:
Musée du Vin: Who can think of life in France without French wine coming to mind? For a refreshing break from sculptures and paintings, head over to the acclaimed wine museum where you will learn how wine making evolved over the centuries
Musée Jacquemart-André - In addition to the rich display of artwork from the private collection of Édouard André, you will be enthralled with the one-of-a-kind architecture of this 19th century house, featuring gilt salons and elegant staircases
Musée Marmottan-Claude Monet - No artist in history has come close to Monet when it comes to pastels and watercolors. To see some of Monet's finest drawings and paintings, a visit to this newly renovated museum is a must
The Louvre: The Mona Lisa is but one of thousands of pieces displayed at the Louvre. Art lovers can also view the famous Madonna on the Rocks and Oath of the Haratii, and spend days enjoying displays in the museum's eight sections: Paintings, Sculptures, Prints and Drawings, Near Eastern Antiquities, Egyptian Antiquities, Greek, Etruscan, and Roman Antiquities, Islamic Art, and Decorative Arts.
Besides their permanent collections, many
French art museums
hold special temporary public exhibits throughout the year featuring parts of hidden collections or elements of various art movements. For all your art needs, visit France today!
Didn't find what you were looking for? Use this search feature to find it: