List of French Desserts
Use this search feature to quickly find the information you're looking for:
A comprehensive list of French desserts could go on forever... but here is a rundown of some of the most popular French pastries, cakes, tarts, cookies, breads, crepes, and ice creams. Of course, France is best known for its numerous wine-producing regions from which have emerged some of the world's finest and most beloved wines, brandies, and champagnes. However French desserts are no less popular and many Western desserts actually have French origins.
Do you have a special French Dessert Recipe? Click here to share it with this page's visitors!
Most people are surprised to find "cheese" on a list of French desserts! However presenting a dish with assorted French cheeses is a very typical after-the-meal course in France, as is a serving of fruit or even a salad. Some of the most famous French cheeses include Camembert, Roquefort, Parmesan, Brie, Beaufort, Saint Maure, and Neufchatel. According to the experts, there are over 500 different cheese varieties in France.
You are probably much more familiar, however, with this next list of French desserts:
Crépes
Waffles (Gaufres)
Doughnuts (Beignets)
Croissants (A crescent-shaped, flaky, puffy, and buttery tasting French pastry)
Pain au Chocolat ("Chocolate bread"; a mouth-watering cousin of the croissant containing strips of dark chocolate and often served warm)
Éclair (A type of French donut made from thin choux pastry, filled with cream, and topped with chocolate icing)
Profiterole (Cream puff)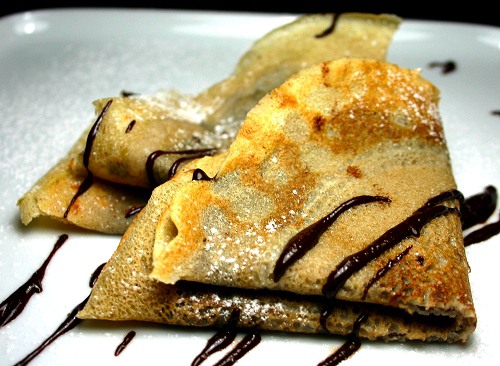 Crépes
Of course, no list of French desserts would be complete without an equally long list of French crème desserts. In fact, the proliferation of crèmes can be rather confusing if you don't how to differentiate between them! Here are some of the dessert items you might find on a French menu:
Crème Anglaise
Crème Patissière
Crème Brulée
Crème Frangipane
Crème Fraiche
Crème Glacé (Ice Cream)
If you love ice cream, sundaes, sorbets, maple syrup, chocolate syrup, butterscotch, assorted nuts, sprinkles, and other toppings, you're going to love this final (but by no means comprehensive) list of French desserts:
Chocolate Liegeois (Chocolate and vanilla ice creams, chocolate sauce, whipped cream, and shaved chocolate)
Coffee Liegois (Similar to chocolate liegeois, substituting coffee for the chocolate)
Coupe Antillaise (Caribbean flavored ice cream with rum and fruit)
Coupe Tutti Frutti (Assorted sorbet combination with fresh fruits and topped with whipped cream and fruit syrup
Coupe Colonel (A lemon sorbet topped with vodka)
Dame Blanche (Classic vanilla ice cream topped with chocolate sauce and whipped cream)
Peche Melba (Vanilla ice cream, poached peaches, raspberry sauce, all topped with whipped cream)
Poire Belle Helene (Vanilla ice cream, poached pears, and chocolate sauce)
Have A Yummy French Dessert Recipe?
Here is your chance to share YOUR favorite French Dessert Recipe!
Didn't find what you were looking for? Use this search feature to find it: