Disney Land Paris Hotels
Use this search feature to quickly find the information you're looking for:
Disney land Paris hotels are situated right next to the Disneyland Paris resort, located in the eastern suburbs of Paris in the town of Marne-la-Vallée. Paris Disneyland is the second resort built after the original Disney theme park located in Anaheim, California. Paris Disneyland is comprised of two theme parks, seven resort hotels, six associated hotels, a golf course, and a railway station. So what makes the Paris Disney hotels so special? Each hotel is a luxury, five-star accommodation with a unique theme which is echoed throughout the hotel - from the way the rooms are decorated, to the architecture and decor, to how the hotel personnel is dressed, and even to the food served!
Of course, Disney Land Paris hotels located within the Disneyland Resort are also the most expensive. If you are traveling on a budget and want to save your money for all the rides, shows, food, and other delights inside the park, there are several hotels in the vicinity which are cheaper and which are located only a few minutes' drive away.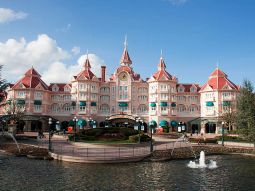 Photo by: Davi Jafra
However if you have decided to splurge and treat your family to all the luxury and wonder Disneyland Paris has to offer, here are some helpful tips and a brief overview of the Disney Land Paris hotels and their amenities.
Each resort hotel within the Disneyland Paris complex operates a free shuttle bus service to the amusement park so you don't have to miss a minute of the fun. You can buy tickets to the parks directly from the hotel help desk, saving you from having to wait in long lines when the park is crowded and especially during the peak season. Each hotel features a play area for children, restaurants, shops, indoor swimming pools, 24-hour room service, a fitness center and more. Disney characters visit each of the hotels to greet guests in the lobby and restaurants and are more than happy to pose for a photo and to mingle and chat with the children.
Now that you are up to speed on Disney Land Paris hotels, it's time to speed dial and make your reservations today!
Or if your not headed to Europe right now:
Disney's Magic Kingdom, Orlando - Plan your perfect trip to see Mickey and friends at his grand home in Orlando Florida.
Didn't find what you were looking for? Use this search feature to find it: