Affordable Paris Hotels
Use this search feature to quickly find the information you're looking for:
Affordable Paris hotels are not that hard to find if you know where to look! Since Paris is one of the most visited cities in the European region and is commonly associated with crowd magnets such as the Eiffel Tower, the Mona Lisa, the Champs Elysees and the River Seine, many people assume that they will have to pay through the roof for Paris accommodations. While it is true that most of the hotels located right in the heart of Paris next to all the main attractions are expensive, five-star luxury hotels, Paris is equipped to provide comfortable and affordable accommodations to all its worldwide guests and travelers.
The best way to find affordable Paris hotels is to search the Internet, where you can do some comprehensive research based on your budget and compare different deals in terms of the services and amenities offered. You can often find a good deal on an upscale Paris hotel close to the main attractions of the city on "name your price" websites such as Travelocity and Priceline. On travel forums such as TripAdvisor and WAYN you can get recommendations and inside information from fellow travelers. This is a great way to discover bed-and-breakfast inns or three- and four-star hotels which still provide clean and comfortable lodgings and at least one meal a day, but perhaps without all excess glitz and glamour.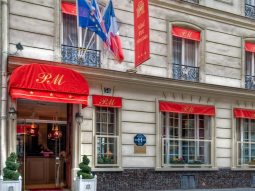 Hotel Elysees Parc Monceau
And if these options haven't helped you locate affordable Paris hotels which are to your liking, you can explore what online travel agencies have to offer. They often work closely with Paris area hotels to bring in regular traffic and therefore can afford to offer good rates all year long. You can also look for package deals which include a hotel, tour guide, and transportation, saving you money compared to booking each service separately. And of course, any time you make a reservation well in advance, especially if you plan to travel at peak tourist times such as Christmas and the spring, you are likely to pay less for Paris hotels.
Keep in mind that if you stay in a budget hotel, you will be saving your dollars or Euros for other things, such as haute couture shopping spree or a fancy dinner out with some first-class wine.
And here's one more tip for finding affordable Paris hotels that most people don't know about. If you are traveling to France on an international flight, you will be landing in the Charles de Gaulle (CDG) airport, located only 14.5 miles from the city center, which is easy to get to by car, bus, taxi, or train. Well, the Charles de Gaulle Airport is home to some of the most affordable hotels in the area. They are not five-star hotels, however they are well-known for their warm hospitality and excellent service, and you will be offered a complimentary vegetarian or non-vegetarian breakfast.
Didn't find what you were looking for? Use this search feature to find it: