Castle Hotels in France
Use this search feature to quickly find the information you're looking for:
To picture castle hotels in France, imagine an authentic medieval castle, complete with moats and a drawbridge, an abundance of rooms, romantic balconies, and sprawling gardens. In the interior are lavish furnishings, large sculpted doors and windows, exquisite ball rooms, tasteful dining rooms, and service fit for royalty.
In fact, most castle hotels in France are renovated genuine medieval or Renaissance castles where kings the likes of Louis XIII, Louis IV, Charles VII, and many other royal figures once stayed. Historically, most of these fairytale structures originated between 1500-1700, when Paris's elite began building chateaux or castles along the river. If you look closely, you will discern two types of castles, defensive and decorative; however all share the same authentic royal look and feel.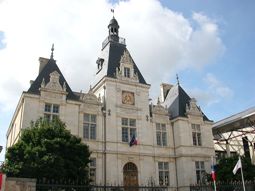 Photo by: Pymouss44
Where can you find castle hotels in France? While they are dotted all over the map of the country, the highest concentration of chateaux is in the Loire Valley or Pays de la Loire. The region is also famous for the long river that runs through it, for its picturesque rolling country side, and for producing many of France's finest wines.
If you've ever dreamed of a romantic getaway, Paris, the city of love, is an obvious choice. But if you want to get away from all the hustle and bustle of city life and from crowded tourist areas, France's countryside in the Loire Valley is the place to go. The area has appropriately been dubbed the Garden of France and features over 300 well-preserved castles which have been converted into first-class hotels. The grounds alone are worth the trip, where you can go strolling, bike riding, horseback riding, and more.
Any travel guide will include a list of the most popular French chateaux, but here is just a sampling of castle hotels in France to get you started:
Chateau de Mirambeau: Located near Bordeaux at the center of its own 8-hectare park, this castle hotel features luxurious design and decor, tasteful antiques, a luxury spa, Jacuzzi, swimming pool, sauna, and massage facilities.
Chateau de Gilly: Located in the heart of Burgundy, this luxury hotel is all about classic luxury. It features impeccable gardens, antique room furnishings, spa treatments, a royal dining room. Nearby is the renowned Clos Vougeot wineries, with over 15,000 wines stocked in their cellar.
Chateau de la Chevre d'Or: Once upon a time a 14th century castle, now a four-star hotel located near Cannes. Features a modern atmosphere, a great ocean view, an overlook garden, and superb cuisine featuring seasonal fresh produce.
Castle hotels in France make magical accommodations, however the country is also famous for its array of royal castles which you simply visit, tour, and admire. Some of Frances's most noted royal castles to add to your trip itinerary include:
Palace of Versailles
Fontainebleau Castle
Château d'Amboise
Château de Villandry
Château de Chenonceau,
Château de Chambord
Château Fort de Lourdes
Didn't find what you were looking for? Use this search feature to find it: