Louvre Pyramid Designer
Use this search feature to quickly find the information you're looking for:
The Louvre pyramid designer, Ieoh Ming Pei, is one of the most noted architects of the 20th century. Born in 1917 in China and raised in Shanghai, Pei came to the United States to study architecture and engineering at the Massachusetts Institute of Technology in Harvard University. After working as architecture director for the real estate development firm Webb & Knapp, he went on to found his own firm in 1958. Today, I.M. Pei and his company are credited for designing and building some of the most eminent buildings and structures worldwide.
You don't need to be an art lover to be impressed by the Louvre pyramid designer's masterpiece! Made almost entirely from glass and situated in the central courtyard outside of the Louvre Museum, you can catch a peak of the wonder as you walk by. If you come in for a closer, look, however, you will see that the main pyramid extends 70 feet high and is surrounded by three smaller pyramids. Pei's glass creations are said to be representative of the hi-tech modernist movement of art, and his signature style is comprised of a fascinating blend of abstract forms and sharp geometric figures.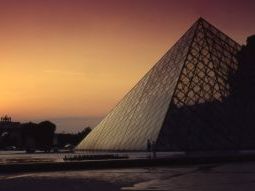 If you would like to view some of the other buildings attributed to the Louvre pyramid designer, I. M. Pei, you will have plenty to choose from! Pei is noted for designing many museums, industrial skyscrapers, low-income housing, and towers. His most acclaimed works include:
Herbert F. Johnson Museum of Art (Cornell University)
Bank of China Tower
John Hancock Tower
National Gallery
Historically, the Louvre originally served as a royal palace for King Philip II. It began to be used as a place to showcase art around the time of the French Revolution, and some of its earliest acquired works included Leonardo da Vinci's Mona Lisa and the Hellenistic sculpture Venus de Milo. Over time, extensions of the building were commissioned and the Louvre began to increase its holdings. To date, the Louvre houses over 12,000 paintings and some of the finest art collections in the world. Its eight departments are: Paintings, Prints and Drawings, Decorative Arts, Sculptures, Islamic Art, Egyptian Antiquities, Greek and Roman Antiquities, and Near Eastern Antiquities.
As part of the Grand Louvre Project renovations, it was French President Francois Mitterrand who hired Louvre pyramid designer and architect I. M. Pei. The unsurpassed creation draws millions of visitors to the site each year and is a "must-see" attraction on any visit to Paris, France.
Didn't find what you were looking for? Use this search feature to find it: