Louvre Pyramid Architect
Use this search feature to quickly find the information you're looking for:
Who is the Louvre pyramid architect? If you have been captivated by famous glass pyramid located in the entranceway of Paris's most visited museum, you might be interested to know who came up with the design and how the awe-inspiring structure came to be. First, some background on the Musee de Louvre itself: The Louvre houses over 35,000 works of art over four floors and in three wings. Its collection includes French paintings, Oriental, Greek and Egyptian antiquities, European sculptures, and Islamic art. The most famous works displayed at the Louvre are Leonardo da Vinci's Mona Lisa and the Hellenistic sculpture Venus de Milo.
Over the years the museum has undergone a number of transformations. In 1989, a new feature was added, designed by Louvre pyramid architect Ieoh Ming Pei. Even if you are not an art lover, a view of the pyramid in all its glory is well worth the visit! The structure, made from glass and metal, is accompanied by three similar but smaller pyramids, all located in the courtyard of the Louvre Museum. But that's not all: The pyramid is comprised of glass segments which reach 70 feet into the air while its square base sides each extend 35 meters.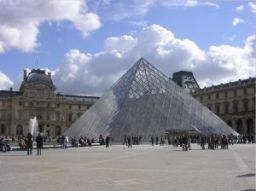 Photo by: kclarkson
What else do we know about the Louvre pyramid architect? Born in Canton, China, in 1917, I.M. Pei grew up in Shanghai but studied architecture and engineering at the Massachusetts Institute of Technology and at Harvard University. In 1948 he became the Director of Architecture at Webb & Knapp, a real estate development firm, and went on to found his own firm in 1958. Over the course of 50 years, Pei is credited for designing myriads of skyscrapers, museums, and low-income housing. His style is largely defined by his use of sharp geometric figures and large abstract forms. In particular, his glass creations showcase the high-tech modernist movement.
Throughout his career, Louvre pyramid architect I. M. Pei has won several architecture awards, including the prestigious Pritzker Prize in 1983. Some of his most noted buildings include:
Cornell University's Herbert F. Johnson Museum of Art
Bank of China Tower
John Hancock Tower
National Gallery
There is no doubt about it: The visions and creative skills of architects continue to transform our world and contribute enormously to society. If you would like to see Louvre pyramid architect Pei's masterpiece up close, be sure to visit the Louvre Museum on your next trip to Paris. If you'd like to explore the interior of the museum and its unsurpassed collection of artwork, the Louvre is open all week except Tuesdays and holidays from 9 a.m. to 6 p.m., with late hours on Mondays.
Didn't find what you were looking for? Use this search feature to find it: