Tourist Attractions in Monaco
Use this search feature to quickly find the information you're looking for:
Tourist attractions in Monaco abound! Monaco, the world's second-smallest independent state, is surrounded by France on three sides and is located at the juncture of the Mediterranean and the Alpes Maritimes. Known as a haven for the rich and a place of frolic and fun, scores of tourists flock to Monaco each year to catch a piece of the action.
Out of all the tourist attractions in Monaco, probably the best-known destination is Monte Carlo, home to many rich and famous people, and home to the famous Monte Carlo casinos. The grandest event in the state is the annual Monaco Grand Prix. The list of what to see, do, and taste in Monaco goes on and on. There are gardens, palaces, cathedrals, museums, parks, observatories, festivals, and more.
Here's a look at some of the most popular tourist attractions in Monaco: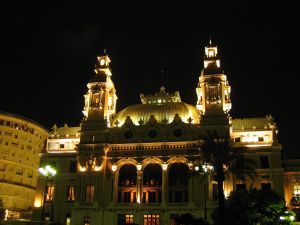 Casino of Monaco
Monaco-Ville: Monaco is divided into four traditional quarters, among them Monaco-Ville, where you will see ancient ruins, some of the oldest buildings in the region, the Oceanographic Museum (founded by Prince Albert I in 1910), the St. Nicholas Cathedral, and the famous Prince's Palace.
Prince's Palace: Also known as the Palace du Prince, this 13th century fortress is the residence of Monaco's royal family, which is open to the public when the Prince and his entourage are away. The palace features a 17th century marble staircase known as the Correra marble stairs, as well as stunning architecture and décor. If you haven't experienced it yet, you mustn't miss the changing of the guards, which takes place daily just before noon.
The current Monarch, Prince Albert II, became the head of state in 2005 after the passing of his father, Prince Rainier - who was Europe's longest-reigning monarch. Prince Albert married South African former Olympic swimmer Charlene Wittstock in July 2011. His two children, who were born of out of wedlock to different mothers, are not heirs to the throne.
Napoleon Museum: If you've always been fascinated by Napoleon I, this is the place to visit! Known in French as the Musée Napoleonien et des Archives Mongesques, the museum is located inside the Prince's Palace and displays ancient documents from the period of the First Empire, personal belongings of Napoleon Bonaparte, garments worn by Roman emperors, an impressive collection of stamps, religious articles, and more.
Outdoor tourist attractions in Monaco include:
The Casino Gardens
Exotic Garden & Observatory Caves
Fontvieille Park
Japanese Garden
The Oceanographic Museum and Aquarium is one of the most popular tourist attractions in Monaco, located in Monaco-Ville, and if you're in the mood for a party, be sure to find out which of the following Monte Carlo festivals coincide with your visit to the tiny state:
Spring Art Festival
International Fireworks Festival
Red Cross Gala Ball
International Circus Festival
International Fine Art & Antique Fair
Where is Monaco
Didn't find what you were looking for? Use this search feature to find it: