Tour de France Map
Use this search feature to quickly find the information you're looking for:
Here you can find the most recent Tour de France map
A Tour de France map is easy to get a hold of in July of every year, as the annual Tour de France is the largest, most prestigious, and most attended cycling competition in the world. Professional cyclists who participate in the event often see it as the highlight of their career, and millions of Tour de France fans and cycling enthusiasts pour into France each summer to get an up-close view of the race and to cheer on their favorites from the sidelines.
While the Tour de France map actually changes every year, its final stage always runs through the famous Champs Elysees in the heart of Paris. During the rest of the three-week race, which covers over 3,600 km (2,200 miles) of France's landscape, the route alternates between rolling, tranquil country sides and small French towns to the most grueling ascents the French mountainous regions and French Alps have to offer.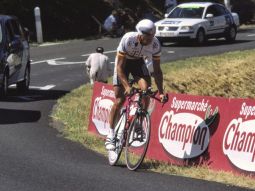 Photo by: Berndt Fernow
Basically, the Tour is divided into stages or day-long events. If you consult with a current Tour de France map, it will indicate where each stage begins and ends. As each bike crosses the finish line, its time is recorded. At the end of the race, the cyclist with the lowest score is crowned the winner. The most famous all-time Tour de France winner to date is American Lance Armstrong, who won a record-breaking consecutive seven times - and all this after successfully fighting testicular cancer.
Perhaps the most famous tradition surrounding the tour is the "yellow jersey" or "maillot jaune," awarded to the fastest rider of each stage. However, unbeknownst to most people, there is also a green jersey awarded to the best sprinter, a white jersey awarded to the best young rider under age 26, and a polka dot "King of the Mountains" jersey awarded to the best mountain climber. In fact, if you look at your Tour de France map, you will see that several stages of the Tour featuring steep, winding ascents which can be treacherous and grueling for even the finest athletes and riders.
If you want to get a firsthand look at the competitors in action, the experts recommend that you try to view the stages during the climbs. Check your map for the location of some of the most popular climbs, such as the Col du Tourmalet in the Pyrenees or the Alp d'Huez, and try to get there early so you can pick out the best spot. If you locate yourself so that you're looking down a hill, you'll be able to view the cyclists as they approach from below, giving you a good 20-30 minutes of up-close viewing time.
Didn't find what you were looking for? Use this search feature to find it: