Tour de France Map Route
Use this search feature to quickly find the information you're looking for:
Here you can find the most recent Tour de France map route
Trying to find an annual Tour de France map route? If so, you're going to be out of luck because although the bicycle race ends in Paris every year, with the final stage running through the Champs Elysees, the actual route of Le Tour de France changes every year. What remains the same, however, is that today's Tour de France (the world's largest and most grueling cycling race in the world) lasts for 21 days and spans more than 2,200 miles (3,600 kilometers) of French countryside. In addition to the professional cyclists who arrive from all over the globe to participate in the event, millions of cycling enthusiasts, as well as many international media outlets, flock to France to view the race and cheer from the sidelines.
However things weren't always set up this way. If you get a chance to view a Tour de France map route from the very first race back in 1903, you will see that the competition began as a six-day affair. It featured five day-long stages which began in Paris, then stopped at Lyon, Marseilles, Bordeaux, Nantes, and finally finished in Toulouse. And if you're interested in some Tour de France trivia, the grand cycling event originated as a sales ploy by the sports newspaper L'Auto as it tried to outsell its competitor, Le Velo. Most of the 60 riders who participated were disqualified for cheating, however the race was ultimately won by 32-year-old Frenchman Maurice Garin.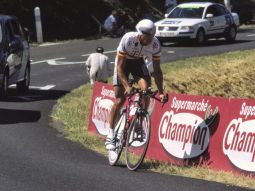 Photo by: Berndt Fernow
What is so spectacular about the Tour de France map route is the diversity of the terrain which it covers. The route alternates between serene countryside roads meandering through picturesque French towns and villages to grueling uphill climbs, such as the steep French Alps, a challenge to even the most accomplished athletes. Some of the most hard-core mountain ascents frequently included on the Tour include:
Le Col du Tourmalet (19 km long, 2115 meters high, with an average grade of 7.4% and a maximum grade of 10.2%)
Le Col du Galibier (34 km long, 2645 meters high, with an average grade of 6.9% and a maximum grade of 10.1%)
L'Alpe d'Huez (14 km long, 1860 meters high, with an average grade of 7.9% and a maximum grade of 14%), where the record climbing time is 37 minutes and 35 seconds.
Col d'Aubisque (16.6 km long, 1709 meters high, with an average grade of 7.2% and a maximum grade of 13%)
Additional locales typically included on the Tour de France map route include:
Mont Ventoux in Provence (a grueling Tour de France ascent also known as the Windy Mountain)
Marseille
Montpellier
Monaco
Barcelona
Brignoles
Besancon
Annensy
Didn't find what you were looking for? Use this search feature to find it: