Paris Travel Agencies
Use this search feature to quickly find the information you're looking for:
Paris travel agencies can help you plan your business trip or your ultimate vacation to the French capital, helping you save big bucks (or Euros) in the process. Paris is home to some of the finest museums, monuments, churches, hotels, restaurants, shopping districts, and tourist attractions in the world. A properly planned trip will make sure your travel plans go off without a hitch, that your hotel or alternative lodging reservations are securely booked, and that you don't miss a single minute of excitement, entertainment, adventure, and intrigue once you arrive in the City of Lights.
The benefits of working with Paris travel agencies are extensive. In addition to helping you find discounts and low-priced vacation packages, travel agencies offer helpful travel tips and information not generally known by the public. Travel agencies specializing in trips to Paris, France, are 'in the know' about everything you will ever need, including first-class and economy flights to France, express travel options, travel by train, Eurostar, Eurorail, coach, or bus, car rentals, tour groups, tour guides, passports and visas, and even local and regional weather forecasts.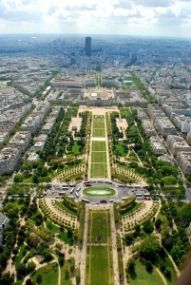 For transportation within the city, Paris travel agents help you purchase rail and bus passes, providing details regarding the best routes, the best deals, and the best packages. To travel by Eurostar, tickets must be booked in advance and travel agents are well positioned to secure your spot on Europe's favorite train service, known for its high speed and first-class service. You can also purchase Metro passes and RER (Réseau Express Régional) passes through Paris travel agencies. The Metro is by far the best means of transportation within the City of Paris, taking you directly to all the main attractions quickly and cheaply. You can also purchase Metro and RER tickets at any Metro station, RER station, the airport, and from tour operators.
To find a vacation package which suits your family's needs and your budget, be sure to contact only reputable Paris travel agencies. Let them know how much you can afford to spend and they will make sure you get all the services you need without sacrificing on quality. There are actually many quality budget hotels in France, as well as five-star hotels offering incredible package deals.
Professional Paris travel agents have access to all the inside information and will further advise you on the best times of year to travel to and vacation in Paris, low-cost airfare and airlines, frequent flier specials, child-friendly hotels and restaurants, seasonal "must see" events in the city, live shows, nightclubs, nightlife, and much more.
Didn't find what you were looking for? Use this search feature to find it: