Normandy France Tour
Use this search feature to quickly find the information you're looking for:
Take a Normandy France tour and follow in the footsteps of the Allied troops who launched the most ambitious military operation ever, leading to the downfall of Nazi Germany at the end of World War II. The Normandy beaches are famous as the area where the Allied forces, debarking from a massive ship off the Normandy coast, landed on D-Day. Since then, Normandy, France has special meaning to many veterans and their families. Every year, thousands who lost loved ones, who fought in the war, as well as visitors and tourists, arrive in the region to remember and learn about one of the world's most important historical events and fierce military clashes.
If you're interested in participating in a Normandy France tour, you'll have more than your pick of options! You can take a tour of all the museums and monuments in Normandy and the surrounding regions; you can visit the military cemeteries of fallen soldiers or search for the grave of a lost relative; alternatively, you can hire a war expert or retired army colonel as your private tour guide. The latter can take you to places most organized tours don't visit, tell you intimate stories about what actually took place on D-Day, offer personal accounts of American soldiers who lost their lives in battle, and help you get a real feeling and understanding of the offensive and defensive positions and their strengths and weaknesses.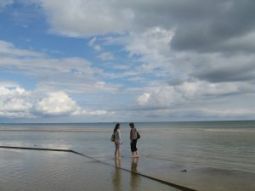 Utah Beach
The most popular type of Normandy France tour is a bicycle or cycling tour. If you have ever watched the Tour de France, you know how passionate the French are about cycling! You can plan your own route with the aid of a Normandy guidebook and map or join one of many organized cycling tours. In addition to learning about Normandy's past, you will thoroughly enjoy the view of modern-day Normandy with its sprawling countryside and gorgeous beaches. Another option is to take an exciting motorcycle Normandy tour, which is growing in popularity and which is great way to cover a lot of ground quickly and easily. The best times of year to cycle in France are late May, June, and September, when temperatures are pleasant and when you avoid the summer crowds.
If you are unable to cycle or are traveling to France with small children, joining a Battlebus is an equally worthwhile type of Normandy France tour. Other organizations offer tours of the D-Day beaches in smaller, private vehicles, where you have more flexibility in terms of schedule and more say in selecting the tour route.
Didn't find what you were looking for? Use this search feature to find it: