List of French Words
Use this search feature to quickly find the information you're looking for:
Let's begin with a list of French words you'll need when you take your dream trip to France, travel to Disneyland Paris, or when you want to greet your French-speaking family, friends, or clients.
Bonjour/Salut = Hello
Bonsoir = Good evening
A plus tard = See you later
Au revoir = Goodbye
Oui = Yes
Non = No
Merci = Thank you
S'il vous plait = Please
Excusez moi = Excuse me
De rien = You're welcome
Comment? = What?
Là = There
Quand = When?
Où = Where?
Comment allez vous? = How are you?
Comment ca va? = How are you/How's it going?
Ca va bien, merci, et vous? = Fine thanks and you?
In this next
list of French words
we'll look at some common phrases and everyday expressions that are sure to come in handy: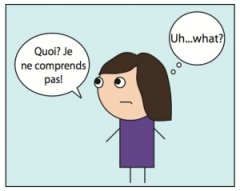 Je ne parle pas français = I don't speak French
Parlez-vous anglais? = Do you speak English?
Je ne comprends pas = I don't understand
Pouvez-vous répéter cela, s'il vous plait? = Could you repeat that, please?
Quelle heure est-il? = What time is it?
Où est? = Where is...?
C'est combien? = How much does this cost?
Je parle très peu français = I speak very little French
J'ai faim = I'm hungry
J'ai soif = I'm thirsty
Desolé = I'm sorry
Je m'appelle = My name is...
Any good French dictionary should include a list of French verbs and their conjugations, as well as a list of the French tenses. Most French textbooks provide various lists of words organized under categories or themes, such a list of the parts of the body, a list of shopping terms, a list of French expressions describing the weather, and more. If you are teaching French to children, the following list of French words might come in handy:
French Numbers (1-10) = un, deux, trois, quatre, cinq, six, sept, huit, neuf, dix
French Colors: Jaune - yellow; rouge - red; vert(e) - green; bleu(e) - blue, orange - orange; blanc(he) - white; noir(e) - black; violet(tte) - purple
As you continue to build up your vocabulary, start keeping your own list of French words. In fact, the experts advise that you keep a list of all the words you don't know and then practice using them in a sentence until they are mastered. Flash cards are an interactive way to memorize lists of French words and phrases and are a fun way to test yourself and your friends.
Finally, if memorizing a long list of French words simply doesn't inspire you, here are some more creative and interesting ways to learn French, expand your vocabulary, and improve your pronunciation:
Practice conversing with a native French speaker
Listen to French songs
Read French children's books
Watch movies with French subtitles
Do simple crossword puzzles in French
Do French word searches
Play Scrabble in French
Listen to French audio available on many websites
Didn't find what you were looking for? Use this search feature to find it: