Lego Eiffel Tower
Use this search feature to quickly find the information you're looking for:
Lego Eiffel Tower will entertain children, young and old, for hours on end - not to mention their parents and teachers! Whether you are trying to get into the mood for an upcoming trip to Paris or whether you simply love to build, create, and play, Lego will keep you entertained, challenged, and fully engaged from top to bottom.
Of course, Lego has been creating educational games since the 1940s, when it first introduced the interlocking plastic bricks in Denmark. Since then, the company's popularity hasn't waned. In addition to Lego Eiffel Tower, the company has expanded into books, robotics, amusement parks, and most recently, computerized video games. What attracts the masses to Lego is its dual nature. On one hand you have the simplistic block-by-block construction, which any child or adult can succeed at. On the other hand are the intricate, complex, and impressive creations which emerge from building with Lego. Similarly, the blocks are at once both an excellent educational tool and a fun and colorful toy.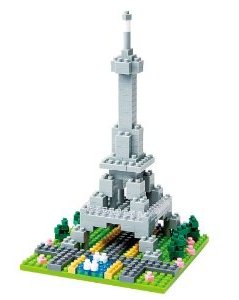 While Lego Eiffel Tower is a favorite, there is no lack of popular Lego products, including Star Wars Lego kits, the Lego Harry Potter board game and video game, and Lego Mindstorms, from which you can build robots. Of course, the sky is the limit when it comes to the imaginative geometric structures and two - and three-dimensional shapes and figures you can create. Over the years, Lego has been championed as a tool/toy which helps develop a wide set of skills in children. In addition to enhancing fine motor skills and building skills, Lego is said to advance shape recognition, patterning, three-dimensional thinking, problem-solving skills, logical thinking, math reasoning, and the learning of spatial relationships.
However let's not forget the fun factor when it comes to Lego! Lego provides great creative stimulus through simple fun and play. A Lego model of the Eiffel Tower is thus a great gift idea a birthday, holiday, or Christmas, and Lego birthday parties are gaining in popularity as well. Since kids love playing with Lego, allowing each child to build his own empire is always a hit. To add a competitive element to your party (to win fun prizes, of course), give the children five minutes to build an object of their choice, which will then be judged. Or better yet, present them with an already complete Lego Eiffel Tower which they must try to copy. Finally, to keep to the theme of the day, put a twist on the traditional cake by building an Eiffel Tower out of stacked cupcakes!
Didn't find what you were looking for? Use this search feature to find it: