French Open Results
Use this search feature to quickly find the information you're looking for:
French Open results are closely followed each year by tennis fans worldwide. The French Open, one of the most exciting Grand Slam events in the tennis calendar, takes place every summer in the heart of Paris under the hot Parisian sun. Better known in France as the Tournoi de Roland-Garros, the tournament last for two weeks (between the end of May and early June), and takes place in the Stade de Roland Garros.
The event began over a century ago in 1891 as the Championat de France International de Tennis. Throughout its history, French Open results have remained some of the most talked about and fascinating set of wins and losses in the world of sports. This is largely due to the fact that many top-seeded players who have been champions on the grass courts of Wimbledon and other arenas, have often failed to claim victory on the clay courts of the French Open.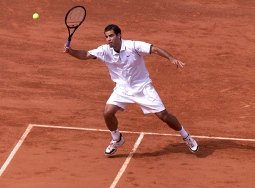 If you're new to the realm of tennis, there is a dramatic difference between the playing surfaces of clay courts and grass courts, which in turn create large differences in tennis players' ability to succeed on either turf. For years, this led some pros, such as world champion Roger Federer, to be a 16-time Grand Slam singles winner in every other tournament except for the French Open. In contrast, top-seeded Rafael Nadal was known for exclusively winning the French Open, earning him the title of 'king of the clay court.'
Of course, these French Open results changed dramatically in 2009, when Federer won his first French Open against Robin Soderling. A similar story can be told about Kim Clijsters, who despite many other tournament wins and despite reaching the finals of the French Open on several occasions, failed repeatedly to capture the French Open title. If you recall the results from the early 2000s, Clijster lost to Jennifer Capriati in 2001 and to Justine Henin in 2003. Also on the women's side, the most recent defendant of the French Open title is Italian-born Francesca Schiavone, who beat Australian Samantha Stosur in a tight match.
When it comes to French Open results, the grand prize and title aren't the only awards handed out. Over the years, new awards have been added, such as the Prix Orange, given to the most press-friendly player; the Prix Citron, given to the player with the strongest character and personality; and the Prix Bourgeon, awarded to the tennis player deemed the 'revelation of the year.'
Didn't find what you were looking for? Use this search feature to find it: