French Guiana Music
Use this search feature to quickly find the information you're looking for:
French Guiana music is an eclectic of modern, African, and South American beats and rhythms, reflecting the diverse nationalities which make up the population. Historically, the Guiana coast was first spotted by Christopher Columbus in 1498, during his third excursion to the New World. A century later, the French settled the land, naming it Guiana, which means "land of waters." Although French Guiana is a part of the French Republic in that it is subject to the same laws and political policies of the French mainland, geographically, French Guiana is actually located on the northern border of South America between Brazil and Suriname. France also has three additional overseas regions, namely: Guadeloupe, Martinique, and Réunion.
One time of year you are sure to hear French Guiana music is during the annual King Carnival. You can also catch people dancing and singing in the streets during the region's swinging Mardi Gras celebrations. The Carnival is considered an intricate part of Guyanese culture and everyone from young to old participates in the celebrations. The annual grand event takes place every weekend during the months of January and February and is attended not only by the locals but by people from neighboring Brazil, Suriname, the French mainland, and more. Life as normal ceases as people take to the streets to participate in the festivities, featuring a series of street parades wherein groups compete for the top prizes for best costume and best float.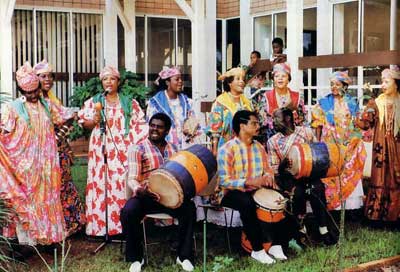 When it comes to French Guiana music, you can look forward to the sounds of marching brass bands and drum-beat rhythms. One special type of drum-based music is "aléké," the origins of which date back to the 1950s and which is comparable to modern-day merengué and salsa music. Due to the contingent of Maroons living in French Guiana (runaway slaves who formed independent settlements in parts of North, Central, and South America, the Caribbean Islands, and the West Indies), Bushee Negro styles of music are also common to the region, including kawina, mato, soussa, and awassa.
Yet another type of French Guiana music traditionally played with drums and maracas is "bigi pokoe" dance music. Today, modern sounds have been added to the tune of percussion instruments, keyboards, and guitars. French Guiana culture is also known for its regional foods, such as the cayenne red hot chilli pepper, which is named after the capital of French Guiana, Cayenne. Finally, if you're visiting the region, be sure to take a tour of the state-of-the-art French Space Center located in Kourou.
Didn't find what you were looking for? Use this search feature to find it: