Eiffel Tower Sculpture
Use this search feature to quickly find the information you're looking for:
Building your own Eiffel Tower sculpture is not only a challenging and intriguing project, but you will end up with replica of one of the most iconic and recognized structures on earth! The real Eiffel Tower in Paris, France, stands 1,063 feet tall proud, and is said to be as high as an 81-story building. It held the record for being the tallest manmade structure in the world for 41 years, only to be replaced by the Chrysler Building in 1930.
While an Eiffel Tower sculpture isn't likely to achieve the same dimensions, you can certainly build an admirable structure that resembles the real deal. In the past, some of the most memorable miniature Eiffel Towers included a seven-feet tall Eiffel Tower made out of toast and a model sculpture of the Eiffel Tower made from matchsticks. The latter, built in the Ukraine, was comprised of 7,464 matches, stood 1 meter high (3.3 feet), and was illuminated by LED lights. If you travel to France, almost anywhere you go you can buy Eiffel Tower figurines and statues. They are made from crystal, metal, iron, plastic, wood, and wire. If you enjoy baking and French pastry delights, you might be inspired to make a -D Eiffel Tower sculpture cake. Another innovative project is to build a tower out of stacked cupcakes – it's a pretty sight to behold and looks too good to be true, but when you taste it you know that it's real! And for those of you who simply love all things Paris and all things France, you'll be happy to learn that myriads of Eiffel Tower decorations and knick knacks are available for sale over the Internet and in many Parisian souvenir stores. Look for Eiffel Tower cookie cutters, Eiffel Tower salt & pepper shakers, Eiffel Tower earrings, Eiffel Tower charms, Eiffel Tower candlestick holders, Eiffel Tower wall clocks, Eiffel Tower napkin and place card holders, and more.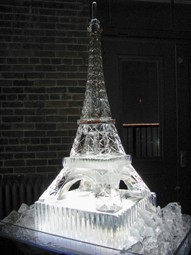 Eiffel Tower Ice Sculpture
You can also build a 3-D paper origami Eiffel Tower structure. All you need are paper, a craft knife, a ruler, a cutting mat, and a flat working area. There are also many 3D puzzles sold of the Eiffel Tower, ranging in difficulty. There are 30-piece puzzles for young children, 60 to 200-piece puzzles for school-age children, and 700 to1000-piece jigsaw puzzles for those who are up to the challenge. If you love to build, however, you might want to head to the nearest store and pick up the LEGO Make & Create Eiffel Tower Kit, which is comprised of 3,428 pieces and is recommended for ages 16 and up.
Finally, you can be creative when it comes to designing an Eiffel Tower sculpture. A more complex model is an Eiffel Tower ice sculpture; however you keep it simple and create miniature Eiffel Tower towers out of lollipops, popsicle sticks, wire hangers, or any other materials you can think of!
Didn't find what you were looking for? Use this search feature to find it: